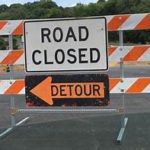 129TH AVENUE ROADWAY PROJECT
ROADWORK ON 129TH AVENUE FROM U.S. 41 (WICKER AVENUE) TO PARRISH AVENUE
Starting on Wednesday, June 9, 2021, 129th Avenue will be undergoing road repairs and maintenance work from U.S. 41 (Wicker Avenue) to Parrish Avenue. The project is estimated to be completed by September 21, 2021, weather permitting.
The road will be closed except for local traffic only throughout the project. Traffic patterns will be changing throughout, and updates will be posted when they are received. Signage for closures and detours will be in place. There will be times where there will only be one-way traffic flow and times where flaggers will be directing traffic flow.
Republic Services have been made aware of the road construction project and will adjust accordingly to ensure trash and recyclables are collected per the normal schedule.
Please allow extra time for your regular commute. Please drive carefully and keep those who are improving the roads safe. This project is on the final stretch.
133RD AVENUE and KING ROADWAY PROJECT 2021
TRAFFIC SIGNALIZATION AND CROSSWALK WORK
The 133rd Avenue and King Project to install a traffic signal and crosswalk has begun. The construction signs are being put in place on July 14th. Please follow the directional signs for lane closures and sidewalk closures. At this time, the north sidewalk should be used for pedestrian thru-traffic at King Street.
Fairbanks Street from 129th Avenue to 133rd Avenue
Notice of Road Construction
Road construction will start on Monday, August 30, 2021, and will last approximately 4 weeks, weather permitting.