New Public Pier & Safety Rules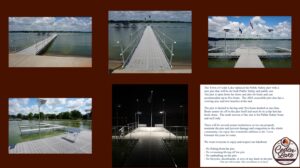 The Town of Cedar Lake replaced the Public Safety pier with a new pier that will be for both Public Safety and public use. The pier is open from the shore and also for boats and can accommodate up to five boats. The ADA accessible pier also has a view area and two benches at the end.
The pier is limited to having only five boats docked at one time. Boats cannot tie off to the pier itself and must be in a slip that has dock cleats. The south section of the pier is for Public Safety boats & staff only.
There will be several posted restrictions so we can properly maintain the pier and prevent damage and congestion so the whole community can enjoy this wonder addition to the Town Grounds for years to come.
We want everyone to enjoy and respect our lakefront.
No fishing from the pier
No swimming/diving off the pier
No sunbathing on the pier
No bicycles, skateboards or toys of any kind on the pier
The pier will be under video surveillance at all times.